Useful Links

The following section provides links to certain soil-related websites operated by Cranfield University, as well as others that may prove of wider interest to readers of Soil-Net.
---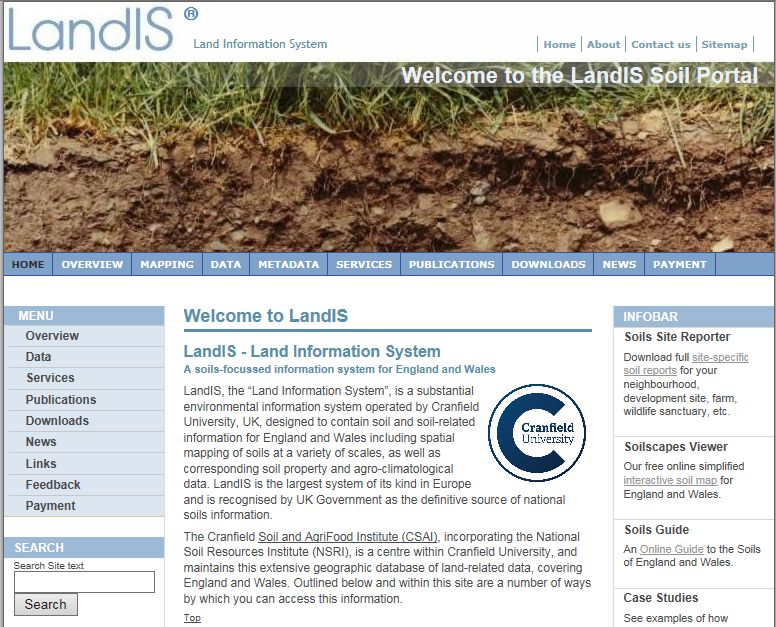 Welcome to LandIS
LandIS is maintained by Cranfield University's Soils and Agrifood Institute, UK, the leading Institution of soil science and soil-related research in England and Wales. If you are interested about finding out more about the soils of England and Wales, or obtaining digital datasets, maps, books and publications about soils, then visit http://www.landis.org.uk.
LandIS is operated by Cranfield University, UK and is a central repository and information bank about a huge range of soil and soil-related datasets and information; the largest of its kind in Europe. LandIS has three particular services which may be of interest to you:
| | |
| --- | --- |
| | Soilscapes Viewer is a free web-based mapping system that allows you to enter a location by Postcode or map grid reference to produce a summary of the soils for that area. |
| | Soil Site Reporter provides a comprehensive environmental report covering a wide range of soil-related maps, facts and illustrations for a given map location or Postcode for a small fee, payable by credit card. |
| | You can also lease GIS and tabular datasets on soils and soil properties from Cranfield's Land Information System (LandIS) team. |
---

A key resource related to Soil-Net is the World Soil Survey Archive and Catalogue, or WOSSAC. The WOSSAC project revolves around a concern apparent for many years that the huge wealth of information and literature collected over the previous 50-60 years by soil scientists around the world is in great danger of being lost and dispersed and sadly even destroyed as companies and governments change and as individuals retire. The archive and catalogue was therefore established by Cranfield University, together with the initial help of the British Society of Soil Science, to draw together all these materials. We are now holding many thousands of maps, reports, books, field books, survey reports, land assessments, satellite imagery, GIS datasets, photographs (the SoilPIC collection) etc. in the carefully managed storage facility. The initial goal (with advice from the British Library and Cranfield's own University library) has been to create a catalogue of these items according to international standards (MARC21, Dublin Core, ISO19115) and to make this catalogue available over the Internet - a significant task. Have a look!

Related to WOSSAC and Soil-Net is the new 'SoilsWorldwide' soils-related educational resource www.soilsworldwide.net. SoilsWorldwide sets out to provide more detailed soils related information than Soil-Net, and importantly is also the home for the Soils Photographic Image Catalogue (SoilPIC), an online resource of thousands of soil and landscape-related photographs from around our planet representing the astonishing variety of world soil types.
---

Here's a fantastic resource you can enjoy
concerning the importance of soil!


---
Other useful links
Listed below are a range of other useful soil-related links on the Internet. These sites are external to Soil-Net and are not the responsibility of Soil-Net.
No responsibility is accepted or assumed for the content or accuracy of the non-Cranfield University websites featured above, all information is provided in good faith. Please let us know if you want your site featured or the entry removed or edited

We are not responsible for the content of external Internet sites, and do not endorse their content. We have provided these links to these pages because they contain information that may be of interest to our readers. Throughout the site, all links to pages outside Soil-Net are marked as 'External page links'.