Soil-related activity sheets - a huge range of activity sheets and resources for all ages, presented by Key Stage. A must for all Soil-Net users!!

Have a go with this fantastic Happy Families card game (pdf, 6084K) , done in the style of Go Fish!, it will transport you into the secret world below your feet.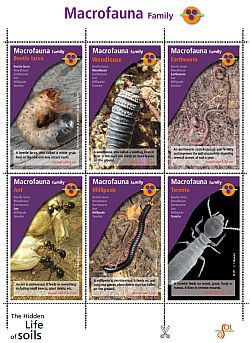 Discover the hidden organisms that inhabit the soil, their environment, the tools used to reveal and study them, and the scientists who study this world. Have fun learning about the diversity and functioning of the living soil environment using 42 playing cards, each with a large photo and description. A educational page also comes with the game. The soil in your garden will come alive before your eyes! The game was created with sponsorship by the French Ministry of Ecology and the Agropolis Foundation.
Desktop wallpaper for your computer - download some great 'green-screen' images.
The school garden - how to start and manage a school garden.
Soil walks - take a virtual online soil walk.
Terrain builder - an erosion simulator. Design a landscape and let that water flow!
Eco-Lifestyle Quiz - an 'eco schools' resource. Check the impacts of your lifestyle on the environment.
SoilScapes Interactive mapper - online soil mapping for England and Wales. Enter your Postcode to see the soils near you.

Whose Poos? and
Whose Clues?
- you just have to find out!
Wormery - study worms and learn about what they do!
Mushrooms - grow your own and learn about fungi!
Soil-Net Primary fileset - for offline use.
Soil-Net Photo Library - over 2,700 high quality environmental images for royalty-free classroom use.