SoilScapes interactive mapper
Soilscapes interactive soil mapper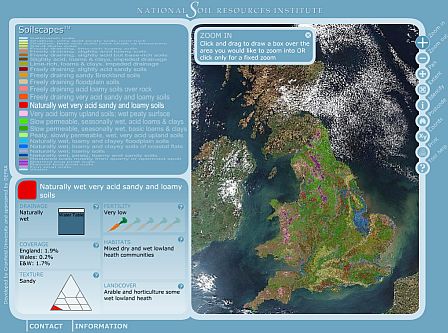 Don't miss this fantastic interactive tool!
Do you want to know what the soil is like near your school or your home? Do you want to type in a Postcode of a friend or relative and compare their soil to yours?
Try the interactive SoilScapes soil viewer (opens in new window).
---
Soil Forensics Activity!
How about this as a classroom activity! A terrible deed has been done and the body lies somewhere along a road passing through many different soil types. But the police have their suspect and they have found a certain type of soil on their shoes!! Try to help predict whereabouts the search should be concentrated. This activity has a serious side and is in fact a valid aspect of forensic science! If you are a teacher you can use this approach to set up a fictional exercise using the Soilscapes Viewer, perhaps prepare some possible search location possibilities with contrasting soils - don't forget to use the Postcode search tool, or the measuring tool conveniently provided in the viewer to help pinpoint distances along the road then zoom in to see the detailed map and print the results.