Soil walks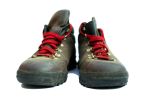 What is a soil walk
Soil is one of the most wonderful things in nature This precious material that is under our feet wherever we walk enables our food to be grown, our wonderfully diverse flowers and trees to grow, our buildings, roads and railways to be supported, and is the home of billions of different organisms. Soil is amazing.
There are an astonishing number of different soils - over 700 in the United Kingdom. In each landscape there will be several different soils. Walking through a particular landscape near your school or your home is the best way to discover interesting things about your local soils. Soil-Net intends to offer a series of Soil Walks to show and explain local soils, how they differ from each other, and what the soils are being used for. We will be adding more walks here - let us know if you'd like to help!
Look at the Soil Walks here and if you can't go to the places mentioned, try our 'Virtual 3D Soil Walk' on each page below!!

St Catherine's Hill - near Winchester, Hampshire

New Forest - White Moor Gate, and New Forest Reptile Centre, Hampshire
White Moor Gate and the New Forest Reptile Centre are owned and managed by the Forestry Commission.

Dinkling Green - a virtual Soil Science Field Trip to identify soil plant and landscape dynamics in the Bowland Fells