Terrain Builder





How does a landscape form? How does erosion affect the shape of the land? One way to see this is to have a go with 'TerrainBuilder'. TerrainBuilder is a free software tool which simulates the action of erosion on differing landscapes.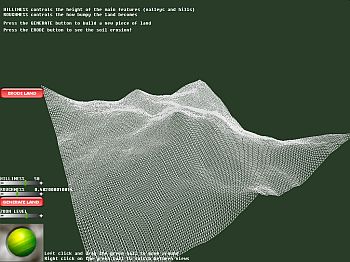 TerrainBuilder application (exe, 6075K) Try it now!
Download notes
This programme is a stand-alone '.exe' programme. It runs on a PC with no further installation. Right-mouse click on the link above and select 'Save Target as' to save the file 'terrainBuilder.exe' off to your PC.
When run, TerrainBuilder creates a temporary file 'landVals01.dat' in the same folder.
How to run TerrainBuilder
Run TerrainBuilder by double clicking on the file from within Windows Explorer. When you first run TerrainBuilder, you are given a 'flat' landscape. Your first task is to 'build' a landscape to erode, like the picture above. To do this, you adjust the slider bars for 'Hilliness' and 'Roughness'. Once set, press the 'Generate' button to create the landscape. You can keep doing this until you are happy - experiment to get different types of landscape. Then, when you are ready select the 'Erode Land' button to set off the erosion!
You can left click on the green ball to move the landscape around. You can right-mouse click on the green-ball to change the rendering of the surface. The 'Zoom Level' allows you to zoom in and out.
What does TerrainBuilder show?
TerrainBuilder uses a 'rolling ball' algorithm to simulate what water erosion might do to a landscape. As the ball passes across the landscape, channels open up rather like river channels form, and hillsides become depleted and eroded.
It is a bit of fun really - but it does show the principles of erosion at work! When one erosion cycle is complete, press the 'Erode Land' button again to keep going or start again with a different landscape!