Living with volcanoes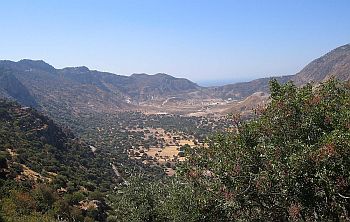 Why would anyone live on the slopes of a volcano?
All around the world, where there are volcanoes, we can also tend to find farmers working the slopes beneath. The benefits of farming here are many. Coming from lava, the soils tend to be rich in inorganic minerals, highly fertile, and of a fine light texture. This is ideal for growing plants! In Nisyros, these include vineyards, olive, fig and almonds trees and many herbs.
Such advantages do not come without risk however, and volcanoes do erupt. In Nisyros, previous eruptions have destroyed fruit tree orchards.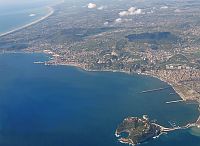 The whole area shown above is a region of mostly-dormant volcanic activity, known in ancient times as the Phlegraean Fields (the Burning Fields) where there are still hot springs. Old craters are visible in the photo above. Perhaps one of the best-known volcanoes is Mount Vesuvius dominating the Bay of Naples in Italy. For countless generations, these volcanic slopes have been used intensively, for vineyards and olives.
Just as on Nisyros, the soil here offers perfect growing conditions. The extraordinary remains of nearby Pompeii are silent witness to the ever-present dangers of volcanoes and the price that can be paid for living on their slopes.